John West Park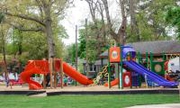 The John West Park is located at the intersection of West and Oakwood Avenues. Picnic tables, grills, a picnic pavilion, and various exercise and playground equipment are available to park visitors. Restroom facilities are available at the rear of Town Hall.
John West Park is partially dog friendly.  Dogs are not allowed in the playground and open space area's however they are allowed to be walked along the walking trail adjacent these areas.   Mutt mits and disposal bins are available there.  
The picnic pavilion can be reserved for use by certain groups and organizations. Contact the Receptionist at 302-539-9797, ext. 110  for procedures regarding use of the pavilion and to check on the availability of specific dates.  If you are interested in reserving John West Park for an event, please fill out the reservation form and return it to the Town receptionist.