Town Manager's Message 
January, 2022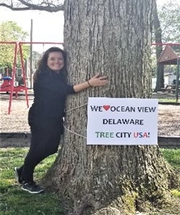 As we begin 2022 and the FY23 budget process I had the opportunity to reflect on some of the accomplishments made by our organization over the past year.
While Commitment to Community is something that we have been focusing more on in recent years, this past year included the completion of our 10 year Comprehensive Plan update which has since received the 2020 American Planning Association Small Town Award.  This award is presented annually to an outstanding Comprehensive Plan that addresses the development of a neighborhood, community, county, or region. Ocean View's success in receiving the award was noted to be our high level of community engagement opportunities provided to obtain feedback and input about our future as well as the Town's commitment to the Plan, having already begun work on its recommendations. 
That accomplishment was followed in November of 2021 by the announcement that the State of Delaware's local chapter of the National Planning Association named Ocean View's 2020 Comprehensive Plan update its 2021 Outstanding Planning Project!
Regarding financial oversight and controls, Ocean View also earned an Unmodified Opinion for its year end 4/30/2021 Internal Audit performed by an independent audit firm. An unmodified opinion is the highest level a Town can achieve. In addition, the past year also saw the Ocean View Police Department receive a 2020 Gold Level Recognition for Excellence in Policy Development and Training and Chief Kenneth McLaughlin was recently voted the Best Public Safety Official in Sussex County by the readers of Coastal Style Magazine! 
Additional engagement achievements relate to Ocean View's focus on improving and expanding its communication options.  Between 2020 and 2021 the Town upgraded its website to provide a more attractive and user friendly option, it  changed its domain from .com to .gov to provide improved awareness and security for the site, and Ocean View launched a government access channel for residents named OVTV to provide ease of awareness of Town initiatives and information. 
Certainly, it should be noted that Ocean View's consistent record of being named the safest place to live in Delaware, highlights the Town's commitment to public safety and remaining a favorable place to do business, vacation and live!
Ocean View has also been very effective in partnership building over the past year including our recent effort to develop a home bocce court for Special Olympics Delaware's Sussex County team. This partnership is now in final design and being funded by Natelli Communities, LP.  The project and the Natelli company interest in supporting it stem from the long term engagement and support provided to Special Olympics Delaware by the Ocean View Police Department.
I would be remiss not to mention the long term partnership the Town of Ocean View has maintained with the Ocean View Historic Society and now the Coastal Town's Museum, making available to the public many of the historic structures adjacent our park including the recently opened replica of Hall's store.   Likewise, 2021 partnerships with DelDOT and the Salt Air Gardeners Club will translate in 2022 into a memorial site along Atlantic Avenue for placement of a Blue Star Memorial. 
Our Town has also exhibited a strong commitment to infrastructure improvements such as the annual street and stormwater improvement programs, increased sidewalk connectivity, bike lane additions and improvements, and spearheading the installation of lights along extremely dark sections of Muddy Neck Road and Ogre Drive in direct relationship to safety concerns expressed by residents and confirmed by the Town. 
Lastly, as we wrapped up all our community events for the year, I can share that in 2021 Ocean View's events were all very well-attended, and certainly, from the feedback received had a positive impact on the quality of life in our Town! We're already planning our events for 2022! Of course, we can't forget that the Weiner Mobile made a pitstop at John West Park during the 2021 Fire & Ice Event!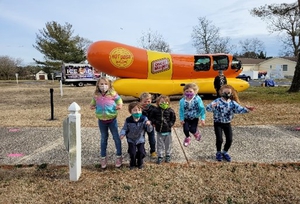 In all seriousness, all the above was accomplished amidst the challenges of the COVID-19 pandemic while remaining fully responsive to our citizens.  Like many other Towns, Ocean View has had to determine how best to conduct meetings, and other programs while keeping an eye on infection levels here in Sussex County, managing varied levels of concern and fear, taking necessary precautions, and looking very much forward to when the pandemic is just a memory! 

I couldn't be prouder of the efforts and accomplishments of Ocean View in 2021 and the level of engagement and commitment to do what's in the best interest of our community shown by our Mayor and Council, Town employees, Committee members and volunteers! The year 2021 certainly highlighted a true focus on the needs of our community and commitment to service excellence in Ocean View!
Happy New Year!     
 Carol S. Houck 
  Town Manager